Experience our
historic stained
glass windows.
Don't miss our
Christmas Eve
Lovefeasts!
Let your
light shine
bright here.
Bring your kids
to play in our safe
downtown playground.
Experience the sight
and sounds of our
Hook & Hastings organ.
Lovefeast bun and
coffee on Christmas Eve.
Come savor the
moment with us.
About Calvary Moravian
Calvary Moravian Church has been serving downtown Winston-Salem since 1893.
We are a faith community of families and individuals who share a common bond of love
for Jesus Christ, a fellowship of family and friends, a desire to serve our community, and
an appreciation for traditions – both old and new – of the Moravian Church.
As a community of faith in the Moravian Church, we invite all into a relationship with God, growing in all ways into Christ, and sharing God's love with others. Moravians share common beliefs with many Christian churches, and our guiding principle captures the essence of being Moravian, which is:
"In essentials, unity;
in non-essentials, liberty;
and in all things, love."
According to Moravian teaching, these are the essentials: God's grace: God creates, God saves, God blesses us; and our response is to follow Him in faith, love, and hope.
Service to others is our passion, and it takes on many forms, whether through one of our structured ministries, or filling a need within our community. Visit our Ministries page to learn more. To learn more about the Moravian Church in North America, click here.
LIVESTREAM SERVICES
To livestream our Sunday services beginning at 11 a.m. every Sunday, click here. To watch previously recorded services, click here.
CALVARY MORAVIAN: A BRIEF HISTORY
Calvary Moravian Church has been in continuous service since 1889 when the "Calvary Chapel" opened. The church grew so much in the following years that the chapel was razed in 1926, and the sanctuary that stands today at the corner of Holly Avenue and Poplar Street in Winston-Salem. was built to hold 675 worshipers.
Calvary Moravian has long been noted for inspirational and creative worship, an outstanding music program, Sunday School for all ages, a caring fellowship, and varied opportunities of service to the congregation and the local community. In these ways, Calvary has responded to its call to faith in God through Jesus Christ.
Well into our second century of ministry, Calvary and its membership look forward to continuing in service to the Lord in a way that celebrates the past and is open to the leading of God's Holy Spirit for the future. Our history reveals a deep desire to serve "the present age," an "age" that is always before us.
The clock tower was added to the church when it was re-built in 1926. This clock, which is still working today, had a previous life atop the original Winston-Salem City Hall that stood where the R.J. Reynolds building is today. Until 1972 when the clock was electrified, this Seth Thomas original was hand-wound every Friday.
Calvary's bells are another unique feature of our sanctuary. A rope in the attic rings the larger bell manually. It was cast in 1892, and the smaller bell attached to the clock was cast in 1890.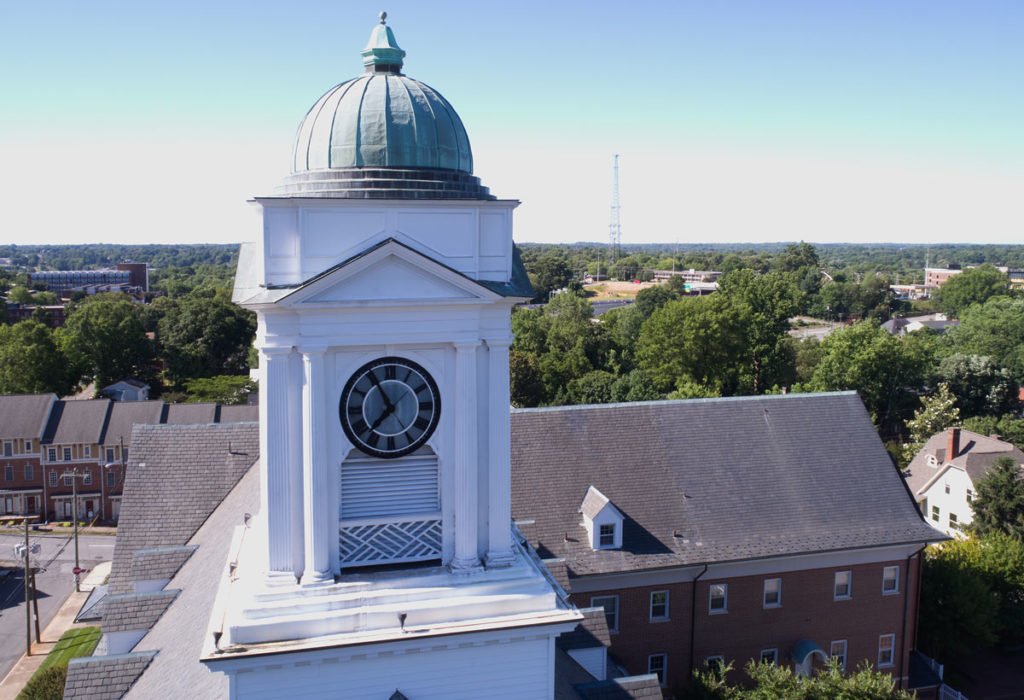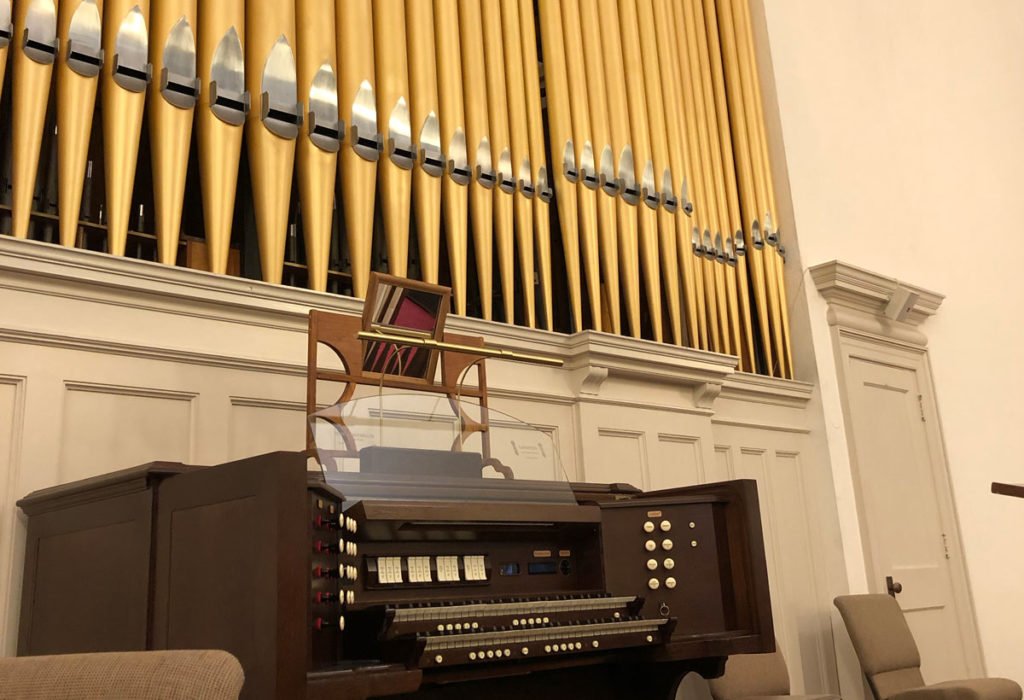 Calvary's organ was built by the Hook and Hastings Co. of Boston, Massachusetts. The Opus Number 2510 is inscribed in various places inside the organ, including the following: "organ installed March 18, 1926, W.C. Greenwood, J.B. Wilson."
The organ is the only specimen of its type surviving in this area. It is part of the original equipment of the building and was unaltered until 1983 when it was "conservatively modernized." The organ was refurbished again in 2019.
In addition to the sanctuary, Calvary Moravian is home to a three-level Christian Education wing that was erected on the west side of the building beginning in 1962. This addition added over 6,000 square feet of classroom and office space on three levels, which is all handicap accessible via an elevator.
The Fellowship Center, located to the rear of the sanctuary, contains a kitchen, bathrooms, meeting space, and pavilion. This center is used both by the church and the community. In recent years Calvary's youth have used the facility as a meeting room, and Calvary Café events are held here.
We encourage community organizations to contact us about using our available spaces for any number of events.
HOW TO JOIN OUR FELLOWSHIP
There are four ways to become a member of our congregation:
By baptism as a child, and confirmation of faith in later years.
By baptism as an adult. This is for persons not baptized as children, who profess faith in Jesus Christ as Lord, and who desire to become members of the church.
By Reaffirmation of Faith. This is for persons who have previously confirmed their faith (by confirmation or adult baptism) but who have not been active members of a congregation for some time.
By transfer of membership from another Moravian or Christian Church by persons reaffirming their faith. This is particularly for persons in good standing of another congregation who wish to change their membership. A letter of transfer, or similar commendation, is required from the former congregation.
Membership in all categories is reviewed and approved by the Board of Elders.
Our pastors will be glad to discuss this with you. An appointment can be made with the pastors to visit your home or you may make an appointment with one of our pastors at the church. Please click here to call church or call 336-722-3703 and schedule a time to speak with a pastor.
Annually or bi-annually the pastor will hold a series of Inquirer's classes covering the history, doctrine, and practice of the Moravian Church. These classes usually last from 4-6 weeks and are offered from 9:45-10:45 am on Sunday mornings. Notice will be given as to when these classes are offered each year in the monthly newsletter and the weekly bulletin.
To learn about the history of the Moravian Church and what it means to be Moravian, click here. To learn more about the Moravian Church in North America, click here.